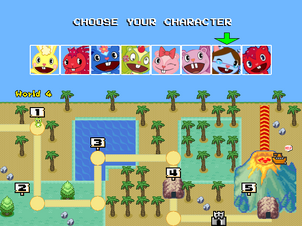 Tropical Jungle is one of the locations in
HTFA Land
.
Description
Edit
True to its name, this world takes place in a warm and tropical jungle, with lots of palmtrees and mostly dry lands except for the grassy areas and the lake in the middle of this world. There are two caves in this world, one of them leading to the inside of an active volcano.
Levels taking place in Tropical Jungle
Edit
Ad blocker interference detected!
Wikia is a free-to-use site that makes money from advertising. We have a modified experience for viewers using ad blockers

Wikia is not accessible if you've made further modifications. Remove the custom ad blocker rule(s) and the page will load as expected.