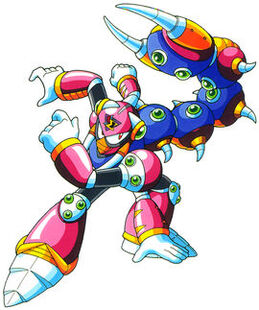 Magna Centipede, known in Japan as Magne Hyakulegger (マグネ・ヒャクレッガー Magune Hyakureggā), is a centipede-like Reploid in the video game Happy Tree Friends Adventures Land. He is a former Maverick Hunter of the 0th Special Unit that was captured by Bowser's forces during a mission and brainwashed. Now a Maverick, Magna Centipede was stationed at an airship, where he guarded the Green Rainbow Critter/Furry. The tree friends fought against Magna Centipede at said airship and destroyed him.
His Japanese name, "Hyaku-legger", means "one hundred legs".

The name Hyakulegger was chosen because it was believed that Japanese children at the time would not know the word centipede.
Ad blocker interference detected!
Wikia is a free-to-use site that makes money from advertising. We have a modified experience for viewers using ad blockers

Wikia is not accessible if you've made further modifications. Remove the custom ad blocker rule(s) and the page will load as expected.