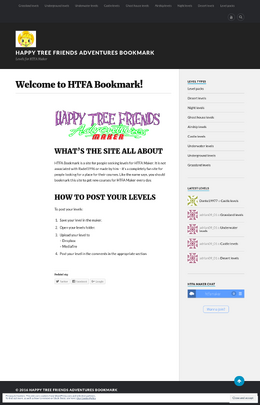 Happy Tree Friends Adventures Bookmark
is fansite dedicated to sharing user-generated courses from
HTFA Maker
. The site isn't made by Radel999 himself, though it's approved by him.
Much like Super Mario Maker's "bookmark" website, this site acts as a repository for courses made in HTFA Maker, allowing visitors to find and play other people's courses using the HTFA Maker program.
Visitors can check the newest course additions in this site by looking at the "Latest Levels" section, located on the right, underneath the "Level Types" section.
How to use
Edit
Users can post their own generated HTFA Maker courses in this site by following these steps:
Make sure the user has saved the generated course using HTFA Maker's in-game save feature.
Find the saved course file. Its format should be .arr.
Upload the course file to either Dropbox or MediaFire.
Post the file's download link in the comments of the appropriate section (for example, grassland-themed courses go to the "Grassland levels" post). If the uploaded file is a pack containing multiple courses, the file's download link must be posted in the "Level packs" post.
Ad blocker interference detected!
Wikia is a free-to-use site that makes money from advertising. We have a modified experience for viewers using ad blockers

Wikia is not accessible if you've made further modifications. Remove the custom ad blocker rule(s) and the page will load as expected.