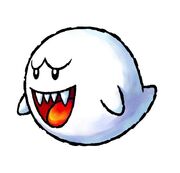 Boos are common ghost enemies in the HTFA series that first appear in
HTF Origins
. They are a type of white spherical ghost with menacing and constantly open mouths. They are known for their large tongues and small "arms" of some sort. However, the most distinctive characteristic of the Boos is their shy personality, where they cover their faces when someone looks them directly at the face.
Ad blocker interference detected!
Wikia is a free-to-use site that makes money from advertising. We have a modified experience for viewers using ad blockers

Wikia is not accessible if you've made further modifications. Remove the custom ad blocker rule(s) and the page will load as expected.