Allay

Allay

Gender

Female

Color

Yellow (normal)
Pink (princess form)

Species

Bear

Ability

Princess of the Kingdom

Age

12
Allay is one of the minor characters in
Happy Tree Friends Adventures
series.
Character bio
Edit

Allay is a character created by a DeviantArt user Cherry-Chowder (now CrabbyNoobs). In her princess form, she's a pink bear wearing red gown and gold crown. She's often shown kidnapped several times by
Bowser
starting from
HTFA 2
. In her usual appearance, she's a yellow bear with brown hair and blue clothes. Once she wears the crown, she transforms into princess state as shown in the intro of
HTFA 3
.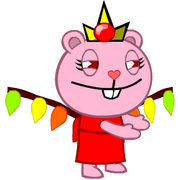 Allayna is the corrupted form of Princess Allay. It's not clearly known so far on how she can achieve this form (one intrepretation of HTFA GB's cutscene implies the use of an orb). In that form, Princess Allay is mostly the same except for her red eyes and crystal wings resembling
Flandre
's.
This form was briefly seen in the intro cutscene in HTFA GB. It's part of Bowser's threat if Cuddles doesn't rescue Allay on time.
Whenever she's in princess form, she turns pink in color and lost her usual long brown hair.
Allay is playable in HTF Origins along with Lemy. She's in her usual appearance instead of princess-like.
She's one of the pink characters (when in princess form).
In her usual appearance, she's counted as one of the yellow characters.
It's now confirmed that Allay will still make her appearance in the future games, as CrabbyNoobs still allows the character usage.